How do I hand wash my wool diaper cover? TOP
Hand washing is probably the best way to preserve the quality and color in your woolies. I suggest you always hand wash 100% wool interlock and single ply knitted wool. If you're not sure what you have, go with hand washing. If you are washing WCW, all items have been wool blend since at least 2009. There are still some older pieces out there that were made with 100% wool.
First thing you want to do is of course gather your supplies. There's many choices here- handmade/small batch wool washes, mass produced wool wash, even a gentle shampoo will do. Wool washes come in the forms of liquid, bar or concentrated cubes. It's all a matter of personal preference and for me just comes down to what I have on hand. I like to support small business when possible so I usually choose something handmade. These are generally made for washing diapering wool and contain a generous amount of lanolin. I like that because it can eliminate the need for separate lanolizing. I also really like the scents :). Earth Muffin and Naturally Luxe are the two brands I prefer and both are available on Hyena Cart. Here is a wool wash and baby wash both by Naturally Luxe as well as a wool wash bar by Earth Muffin:
Today I am washing a pair of longies knit by Strawberry Bottom Baby. Colorway is by Mosaic Moon, I believe it is Autumn Sunset and the yarn is Mountain Meadow Ramboulliet. They don't look particularly dirty but they do have some playing dough smooshed into them.
First thing to do is turn them inside out and rinse in lukewarm water, like you might bathe your baby in. Just comfortable to touch. This is rinsing away an obvious solids and some of the built up urine salts.
I set those aside and filled the sink with the same temperature water. Here is where you need to decide if you're using a liquid wool wash where you'll add a cap or two of wash to your water:
Or maybe you're using a wool wash bar in which case you'll lather it in your hands just like you're washing your hands, but allow the suds to wash right into your wash water:
But in this case I suspect these are dirtier than I think they are since they've been played in quite a bit. So I am using baby shampoo. I like to use a wash without lanolin once in awhile because I think the lanolin can sometimes hold onto dirt. So for me, this is sort of like stripping diapers from time to time.
Once your water is ready, go ahead and add the wool, give it a few squeezes to make sure it is entirely submerged and saturated along with a few good swishes. If you have a particular area you know is dirty, you can use your wool wash bar or just turn a section back on itself to use to scrub a little. I only suggest you do this on sturdier wools- either a wool/spandex blend interlock or more tightly twisted yarn. Don't do this on single ply or 100% wool yarn, or if you absolutely must, then be very gentle doing this:
I prefer to only leave my woolies soaking for a few minutes. I've not found any difference between leaving them soak for longer vs. shorter periods of time. And I prefer not to take a chance that any color is going to bleed or migrate from one color to the next. If you have a color you're really about bleeding (like red or turquoise are notorious bleeders) it has been my personal experience that adding a bit of white vinegar to the wash water has kept that from happening.
Now the moment of truth, I take them out of the wash and ta-da! Look at all the grub that came out of there that I didn't even know was there:
Since this was shampoo and not a wool wash I went ahead and rinsed them. If I had been using wool wash I just pull the drain and let the water drain through the wool, leaving behind as much lanolin as possible:
Since these were not washed in a wash that has lanolin, I'm going to go ahead and do a full wet lanolization on these. Tune in next week for that ;). If you are washing with a lanolin rich wool wash then you're wet work is done. Squeeze out the excess water, starting from the top down. Don't twist and scrunch, just gently squeeze:
When you feel like you've gotten the bulk of the moisture out you can either roll in a towel and push even more out or throw (OK, gently place!) them in the washing machine for the spin cycle only. This will really get the water out and they will dry in a jiffy. There's no danger here, you're not agitating or introducing any water at all. Completely safe for all your wool no matter what type it is. For demonstration purposes I am just rolling in a towel and "smooshing". They will take longer to dry like this:

Last but not least, reshape and lay out flat to dry. A towel really is not the best choice, but it's all I personally have. Something that air can move all the way around works much better. DON'T hang it to dry, the weight will stretch the wool out. Sweater drying racks are great for this and help if you are washing several pieces at a time to conserve space. In this case I just laid these out on the dining room table and turned on the ceiling fan. I flip them once in awhile and move to a dry spot on the towel and they're still dry in just a couple hours. These are ruffled, so I gathered the ruffles together tightly to dry that way. On longies you can sometimes get a little extra length out of them by gently pulling down the legs and letting them dry in that shape. You can really get a lot of shape put back in with this process called blocking.
That's it, really! I can complete this whole process in under 5 minutes. As a bonus, it makes my house smell yummy and my hands feel great (when I'm using lanolin rich wool wash). The things you DO NOT want to do are temperature shocks such as rinsing in hot water then washing in cold water or rough agitation, particularly in less sturdy wools such as the 100% wool and single ply wool.

Why does wool work as a cloth diaper cover? TOP

Well first of all, wool diaper covers are probably most widely known for their wonderful leak protection. Wool will keep baby's clothing, bedding and your lap dry. It initially resists moisture forcing the diaper underneath to soak up as much as possible. Of course your first line of protection IS that absorbent diaper underneath your cover. But once the diaper has reached it's soaking point, the wool will now begin to soak moisture up itself. The porous outer layers of the fibers quickly absorb (and then evaporate) moisture. It will absorb up to 30% of it's own weight in moisture without feeling wet to the touch.

Secondly and closely related to the above, wool is naturally breathable and temperature regulating. Meaning it's warm in the winter, cool in summer. It is after all meant to keep sheep just the right temperature. The transmission of moisture in and out of the wool keeps baby from getting chilled or sweaty (and over heating). Felting (or fulling) the wool intensifies this feature adding even more air pockets as the fibers are matted together creating even more air pockets within the wool. Air is constantly circulating in and out of these air pockets allowing baby's skin to breathe, stay dry and rash/redness free. Allowing skin to breathe is, after all, one of the popular reasons caregivers choose cloth diapering. Happy skin = a happy baby!
Summer or winter, wool is the perfect wardrobe choice for the hip and fashionable youngsters:
Wool is also easy to care for and odor/bacteria resistant. You don't need to wash your wool each time it's used. Stink is caused by bacteria. Since moisture vapor constantly absorbed and evaporated it's not just sitting there waiting for bacteria to grow. Now add in that fact that lanolin in the wool (either natural or added) can actually neutralize ammonia. Simply allow a damp cover to air dry between uses and it will remain stink free! If it does start to smell the lanolin has probably worn thin and it's time to wash (adding more lanolin). As a bonus, if your cover is dirtied with solids (dirt, food, and "other") the combination of lanolin and the overlapping scales of the wool make it easier to clean those off, acting as a sort of non-stick surface.

Wool can also be an economical choice. It can be as budget friendly (or not) as you want it to be. From basic pieces to embellished artistic pieces. But at the most basic level, only a few pieces are needed even when exclusively using wool as your diaper cover system. And if you are using wool longies/shorties (pants and shorts) that IS the clothing and cover all in one, no additional clothing is needed. You can get by with a rather small wardrobe saving both space, money and laundry. Of course it's fun to have a larger variety, but not necessary ;).

Wool in general is a tough fiber. Microscopically, each wool fiber is a corkscrew. The spiral shape gives it a memory to bounce back into to original form. It will stand up over time and not break down as quickly as other fibers, for instance cotton. A wool fiber can bend back on itself approximately 20,000 times without breaking vs. about 3,200 for cotton. So your wool clothing items have the potential of being passed down to the next generation if properly stored!

On the opposite end of the subject, wool WILL biodegrade. If your beloved woolies meet an untimely end and somehow make their way to a landfill, they will over time break down. Exposed to the elements like that, it will happen much more quickly than a synthetic fiber.

Just because it's tough doesn't mean your diapering woolies won't be comfy. WCW uses only "next to sensitive skin" soft wool fabrics. Wool is also generally stretchy and moves well with your baby as she stretches and bends, wiggles, crawls, jumps and runs. An active little one needs active clothing, of course! All without an annoying plastic, crinkly sound. Soft, breathable and stretchy...sounds comfy to me!

Additionally, wool is fire resistant without the addition of chemicals. It does not easily ignite and will generally self extinguish quickly. This is due to both the chemical structure of wool and the fact that it naturally holds moisture. Therefore wool is a great choice for night time diapering when you consider it has both superior leak protection as well as fire resistant properties.

Here's one of my personal favorite reasons to love wool- it can be good for skin! My daughter suffers from severe eczema, particularly on her legs. Anybody that deals with eczema knows you just can't get enough moisture into that dry skin. One little trick I've learned to help with that is I use a good quality, unscented lanolin spray on the inside of her longies. Lanolin has great healing abilities and it does help keep her legs moisturized as well. Some people will try to tell you people with eczema should not wear wool at all because they are likely allergic. Truth is, most people allergic to wool are either sensitive to the type of wool (scratchier varieties) or the chemicals used in processing wool. Most wool used for diapering is the ultra fine variety and minimally processed without those chemicals. Also keep in mind TOO much lanolin will clog up those wonderful air pockets and that will do you no good at all.

If you are dealing with eczema, you might also be dealing with a dust mite allergy. Dust mites cannot tolerate the lanolin in wool. So no need to worry that just because you aren't constantly washing your wool that you'll have a breeding ground for dust mites. Allergy or not, that is a comforting thought ;).

Last but definitely not least, wool is darn cute and gives you that warm, fuzzy, "homey" feeling. Wool has been used for generations as diaper covers. There's just something that feels good about carrying that tradition on in our modern, "newer is better", world.

How do I place an order? TOP
Wild Coconut Wear products are available at our shops on Hyena Cart or Etsy. Links for both are available on the top of the home page. New items are added to the Hyena Cart shop most every Friday at 2:30 EST. The Etsy shop is randomly stocked and announced on Facebook.

Do you take custom orders? TOP
Most generally, no. On the rare occasion that WCW does open for custom orders it will be announced via our Facebook page. The link is available on the home page.

Isn't wool too hot during warm weather? TOP
No! In fact wool is naturally temperature regulating and will keep your baby warm in the cool weather and cool in the hot weather. And considering your baby's bottom will often need a diaper cover, wool is the coolest option vs. plastic type alternatives.

Do you sell wholesale to retailers? TOP
Not at this time.

Do you offer co-ops or group orders? TOP
No, not at this time.

How do I host a WCW giveaway on my blog? TOP
At this time, we do not participate in blog review/giveaways.

When will my order be shipped? TOP
Orders for in stock items ship within 3 business days, often much sooner. Business days do not include federal holidays or weekends. If there will be a further delay you will be contacted with additional options.

What types of payment do you accept? TOP
We currently accept payments through PayPal only.

What type of wool do you use? TOP
Wild Coconut Wear wool is selected specifically for it's softness and durability. It is a 95/5 merino wool/spandex blend interlock meaning it is 95% wool, 5% spandex blended into a single yarn which is knit on a machine into fabric. Interlock means it is a stretchy knit that looks the same on both sides. The spandex gives the fabric stretch and memory to return to it's original state.

The wool used is Oeko-Tex Standard 100 certified. You can read more about here- Oeko Tex Standard 100 .



Will you make a donation to our charity? TOP
WCW does believe in giving back to our community. We mostly do this quietly and not publicly with planned giving through the year. Unfortunately we are not able to give to every charity or cause and choose to give to causes that have personally touched us.

What diaper do you recommend under WCW covers? TOP
Your first line of defense against leaks and wetness is a good diaper! Any diapering system will work under WCW wool cloth diaper covers including prefolds, flats, fitted diapers and even pocket or all in one diapers as an extra line of protection. There are many, many companies that offer absorbent and high quality diapers. Companies I can personally recommend include-

Pianissimo Cloth
Tickety Bu
Holden's Landing

Why has my order tracking # not updated? TOP
WCW ships with the US postal service. For domestic orders, you will receive a delivery confirmation number through PayPal. Although this number is sometimes scanned along it's journey to you, it is only a delivery confirmation. It is only required to be scanned at the time of delivery.

What size should I get? TOP

The most frequently asked question is what size to get. The most important step to purchasing the correct size is taking measurements over the bulkiest diaper you will be using with the cover and comparing them to the stated measurements in each listing. Particularly the rise. Hopefully some of these photos will also help if you are still unsure. Remember, to be trim, pull on soaker style covers are supposed to fit snugly. They stretch an amazing amount. Many people are shocked, thinking when they first see a new one that it looks small until putting it on. But it also does not hurt to size up when you can get away with it, they just won't be as trim.

Most of the size difference in each size step is in the rise. Another good place to start is looking up the rise of your favorite diaper. It's nice to have about 2" more rise in your cover then, an inch all around, but less will work too if you already have a smaller size. There is very little difference between sizes in the width because they will almost always stretch width wise to fit most children.

Since the inseam on shorts is really not much of an issue, the size is pretty flexible. When you get to pants/longies then you really need to pay attention to the inseam. My personal opinion is I like cuffed style for younger babies, under about a year, because they grow SO fast. It's easy to fully cuff, then half cuff then uncuff to get a nice long wear out of them. Now onto some photos!
These are all my own baby. I will try to give approximate age and weight/size. At any give time she can fit into 2-3 sizes, all with a different fit.
These are NB covers at birth, between 8-9 lbs. and 20". They do fit snug and would have fit a much smaller baby. Now I will say, putting a pull on cover on a brand new baby had a learning curve, but it was worth it! My method for the pull on wool cover was to slip her feet through the waist and into each leg hole a bit, then put her up on my shoulder (like burping) and do a little tug/bounce and she'd wiggle in the rest of the way. I mostly used them with fitteds, but with a prefold, it was *very* trim. Especially around the doubters that tried to tell me cloth was too bulky ;). I very rarely stock actual newborn covers as XS will fit most babies at or soon after birth. These NB covers fit her until about 11-12 lbs but we had already started using the XS before she outgrew the NB.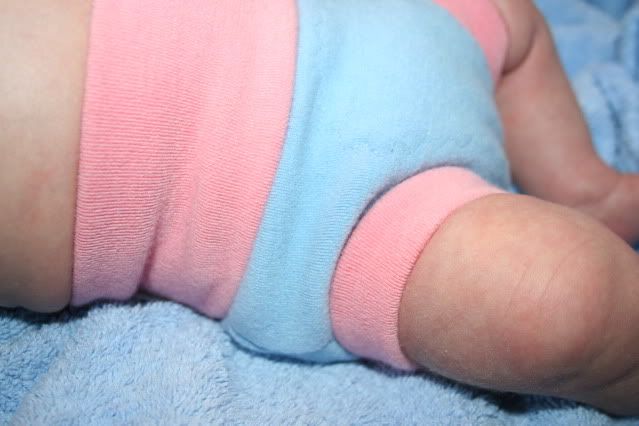 This set was taken in April, roughly 2 months old, 12 lbs and 22". The first photo is a pair of XS longies. They did fit at birth but were much looser and longer and would have been too much too big on a baby that was very much smaller. The NB were a much better fit. The second photo is also size XS a month later at about 3 months, 13lbs and 23". She is now 4 months, 14.5 lbs, 24" and they still fit quite nicely uncuffed.
These are the NB size at about 3 months as well. These were at the end of the size range for her and went into my FSOT pile right after this.
Next up is shorties, size XS at 3 months, 13ish lbs and 23". Since there is no inseam to become too short, I think these will likely last her most if not all summer-
This is an XS and then a small soaker at the same time/age/size as above. You can see most of the difference is going to be in the rise. The small also is not quite as trim, none of the stretch is being utilized so it would not be as trim worn under clothing but is certainly functional. The XS is still fitting nicely at 4 months now and I think will for a little while yet. It is also a single layer only.
Here's the same XS now at 4 months. I would not purchase/make this size for her at this point, but since it's already in use I think it will still last awhile.
It's been awhile, but here are some updated pics! Kayla is currently 7.5 almost 8 month old, about 18-18.5 lbs and 25.25" long. Underneath all of these she is wearing a medium BV fitted from Pattynaps. She still fits in that XS soaker-
Small fits a little better, and she could probably pull off a medium but I haven't given her one yet ;)-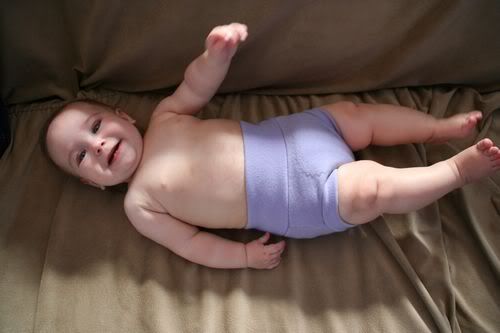 Here are small shorts, hemmed and cuffed longies-
And here in a 12-18 month American Apparel lap tee from Tickety Bu. I couldn't have matched these any better if I tried! The tee is actually a little bit, I have the sleeves rolled up.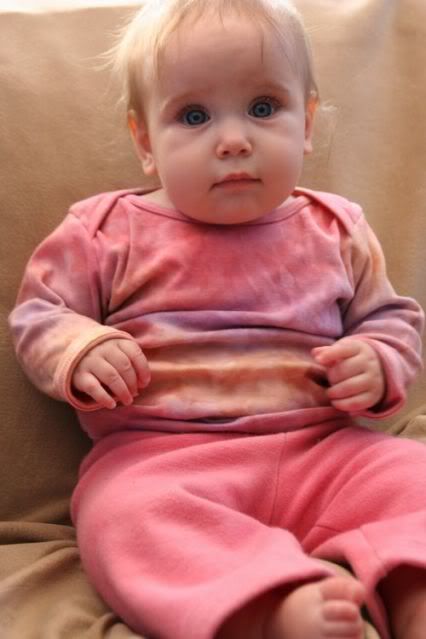 and last for now medium cuffed longies, they're still long but work OK cuffed. Small are still a better fit. Medium hemmed just look crazy long on her.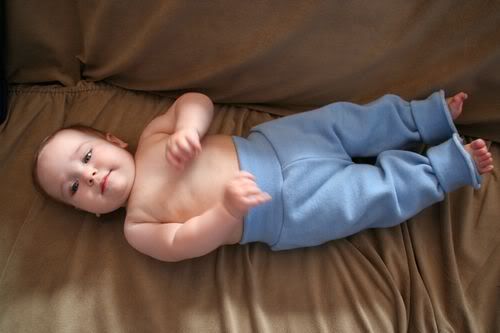 Remember that purple soaker and orange shorties from last summer? They still fit this summer :). She is currently almost 14 months and somewhere between 21-22 lbs. and wearing a size 12 months in most store bought clothing. Where has the past year gone? It's all right here in photos, growing up in WCW! Under the wool in these shots is a medium Elbee Baby fitted. I will say these have grown with her, I would not choose size small for her now. Mediums fit but are a bit big on her.
The shirt is a size 18-24 months American Apparel dyed by Tickety Bu. I just love it, matches everything! She can still wear a 6-12 months AA but 12-18 months is probably her proper size. She has plenty of room in the 18-24m.